5 reasons to take a Paris Segway tour
5 reasons to take a Paris Segway tour.
If you're looking for a fun outdoor activity which will fill your staying with joyful memories. Come ride with us on the most unique vehicle created and explore Paris in the best way possible. After learning how to ride Segway, you'll roll right up the center of city, glide on the streets to the famous historical monuments.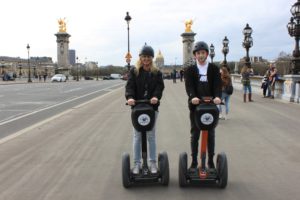 1.You will experience stunning views and sites like never before.
Glide through the streets of Paris and enjoy the view of stunning monuments and memorials. Engaging with the stories of our guide about Paris historic past.
2.Enjoy your own speed with a lot of stops.
The Paris Segway tour is not a race. We will make our way at agreeable speed. You will have a lot of stops to stretch your legs.
3.Meet and make friends with our Segway tour in group.
Our Segway tour in group with the various participants is a social gathering. Meet friends and make plans for future adventures in and out of Paris.
4.Make joyful memories.
The Segway tour is not only a great way to see Paris, but it offers you an unforgettable and memorable experience with friends and family.
5.We provide with all you need.
The SeeWay Tour has all you need to feel comfortable riding, including helmets, raincoats, sun cream and water bottles.